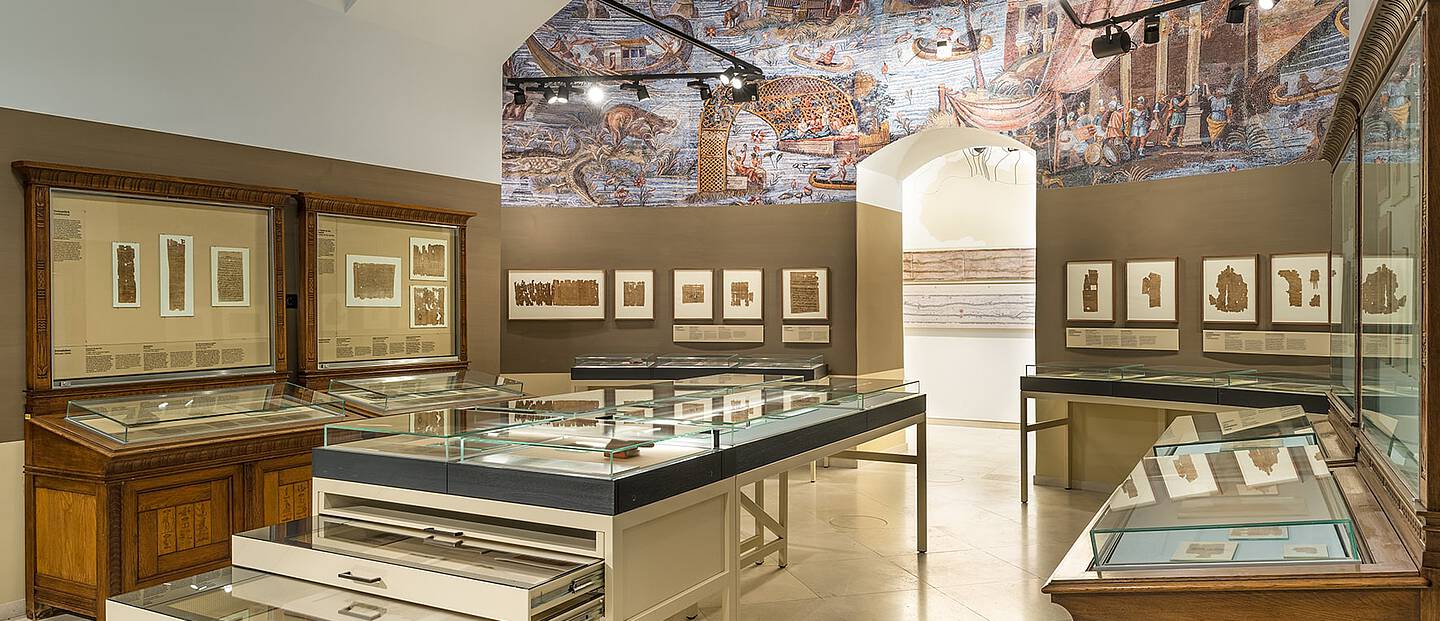 Papyrus Museum
The Papyrus Museum of the Austrian National Library has around 400 unique objects from three millennia of Egyptian culture on display. After a comprehensive relaunch, the museum is presented in a modern ambience with a new welcome room, large-scale wall illustrations and a new lighting concept . In order to enable a varied museum experience for a wide variety of target groups, the permanent exhibition has been supplemented by several media stations, there is also an audio guide in German and English, an experience room on the ancient cult of the dead and an expanded children's area for the cultural education program.
In addition to the Book of the Dead and mummy portraits, there are different scripts in numerous languages on papyrus, that make the museum famous: From spells on an amulet for protection against illnesses to a lease contract for an oil mill, they document the diversity of cultures on the Nile from the 15th century BC to the 15th century AD.
The fully preserved mummy portrait of a woman from the 2nd century AD, which was painted on wood with the technique of encaustic painting.
The Book of the Dead of Taruma from the 2nd century BC. The two scrolls written in hieratic script have a total length of 8.6 metres and let us experience the religious beliefs and social norms of Old Egypt.
- All objects in the museum belong to the Papyrus Collection of the Austrian National Library, which has over 180,000 objects and is on the UNESCO World Documentary Heritage list?
- The Book of the Dead of Sesostris from the 15th century BC displayed in the museum is the oldest object in the National Library?
See the unique fragment from the first chorus of the tragedy "Orestes" of the classical Greek poet Euripides. This papyrus document, written around 200-180 BC, contains lyrics as well as vocal and instrumental symbols. The Papyrus Museum allows visitors to listen to a modern interpretation of the song.
The Papyrus Museum displays additional valuable objects from the Papyrus Collection in an annual special exhibition.
Show more
On December 24, the museums of the Austrian National Library close at 3 p.m. For the other public holidays the usual opening hours apply.
Public
Metro:U1,U3 Stephansplatz; U2 Museumsquartier; U3 Herrengasse
Tram:1, 2, 71, D Burgring
Bus: 1A Habsburgergasse

Hop On Hop Off
Route: Blue Line / Yellow Line / Red Line
Bus Stop: Kunsthistorisches Museum/Heldenplatz

Address
Neue Burg, Heldenplatz, 1010 Vienna
Phone: +43 1 53410425

---
Just one more step to your Vienna sightseeing tour
Buy a ticket