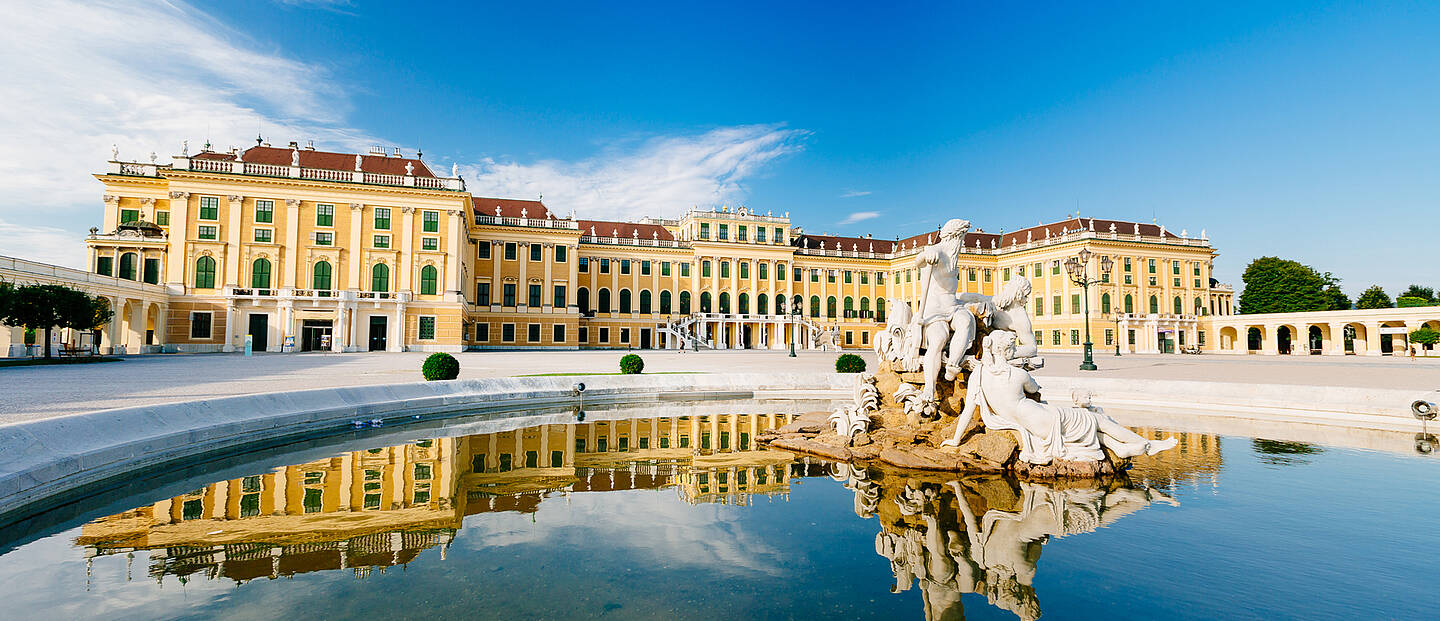 Schönbrunn Palace
Deep rooted in Vienna's imperial past, Schönbrunn Palace is one of the finest examples of Baroque architecture in Vienna. Under the reign of Maria Theresia in the 18th century Schönbrunn Palace was to become the magnificent focus of court life. From that time onwards it played host to the leading statesmen of Europe. In 1996 Schönbrunn Palace and park were put on the list of UNESCO World Cultural Heritage Sites. The cultural and picturesque Schönbrunn Palace is one of Vienna's most popular historical attractions and is waiting to be discovered.
There is so much to discover in Schönbrunn. Make sure you have enough time to stroll through the entire estate. Click here for a map of the Schonbrunn Palace and estate.
- There were an impressive 1,441 rooms in the Schönbrunn Palace, each with a different style
- Young Mozart gave his very first concert at the age of six to Empress Maria Theresa in the resplendent Mirror Room
- An inventory of the palace gardens in 1900 counted 25,000 orchids of 1,500 different species which held the record as the largest collection in Europe at that time
- Empress Maria Theresa and Emperor Franz Stephan of Lorraine had sixteen children! Eleven daughters and five sons…
Please note that Schönbrunn Palace is one of Vienna's most popular attractions and can be crowded, especially during the main season and on holidays. Please get your free ticket for the Grand Tour at the Group Center, which is part of the Arrival Center located at the Bus Terminal in front of Schönbrunn Palace in the morning (from 9:00am). Your ticket will have an exact admission time at which you can start exploring the palace. Should admission not be possible on the same day because the maximum capacity has already been reached, you will receive a ticket with an admission time for the following day. If you start using your Vienna PASS at Schönbrunn Palace please note that your Vienna PASS is activated upon scanning at the Group Center and already counts as first day of your pass duration even if your entry ticket for the Grand Tour is valid for the following day. Please consider this when planning your trip!
The Palace gardens and park were open to the public in 1779 by Josepf II. It was Maria Theresias who helped design the intricate style and landscaping still visible today. The gardens reflect the same Baroque style and concepts – architecture and nature should be intertwined – that extend from the palace itself. The gardens were meant to be a symbol of imperial power, so don't miss the ordered, symmetrical beds of the Great Parterre and the Botanical Garden.
Show more
Last Admission: (to Palace) 45 mins before closing
Public
Metro: U4 Schönbrunn
Tram: 10, 52, 60 Schloß Schönbrunn
Bus: 10A Schloß Schönbrunn

Hop On Hop Off
Route: Yellow Line
Bus Stop: Schloss Schönbrunn

Address
Schönbrunner Schlossstraße, 1130 Vienna
Phone: +43 1 811 13-239

---
Just one more step to your Vienna sightseeing tour
Buy ticket
Sie können die Inhalte jetzt downloaden um sie später offline zu nutzen. (50MB)