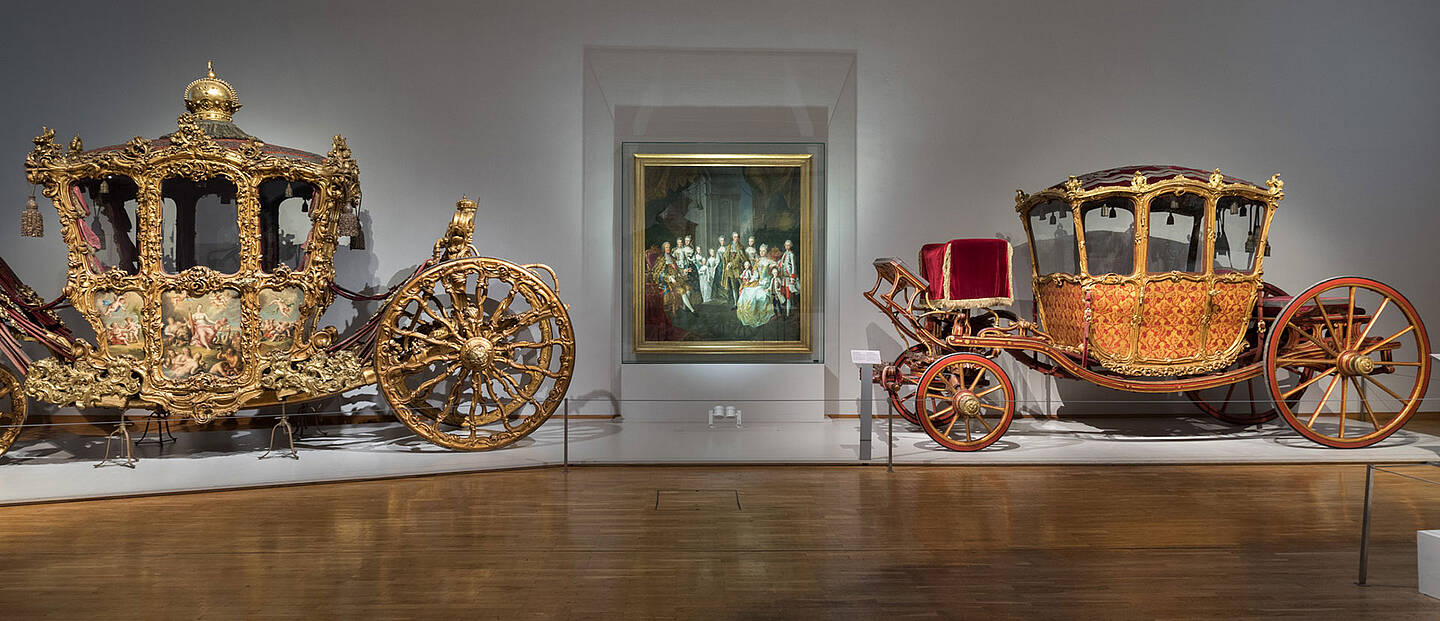 Imperial Carriage Museum
The Imperial Carriage Museum is one of Schönbrunn's most famous attractions. Its magnificent carriages, paintings and robes offer a glimpse of court life – coronations and weddings, cumbersome travels and merry hunts, children's games and funeral processions. At the same time, it documents the lives of rulers like Maria Theresa, Franz Joseph and (perhaps surprisingly for many) the French Emperor Napoleon. One of its highlights is the "Sisi Trail", which offers a new and unusual view of the famous Empress, whose life over a century ago was marked by topics that remain current today, such as mobility, sports and the cult of beauty.
- According to the Spanish court ceremonial, nobody was allowed to sit higher than the ruler, and the coronation carriages of the Habsburgs therefore had no coach box
- Napoleon's son's small carriage was drawn by two Merino sheep, which had been specially trained by a circus ringmaster
- Different clothes and carriages were required in the 19th century depending on the occasion and the time of day
- Sisi invented the "Viennese wasp waist", which cinches the waistline sharply and in complete disregard of human anatomy, creating a particularly impressive silhouette
- The first automobiles, such as the "Imperial Car", were delivered with two exchangeable bodies, an open one for summer and a closed one for winter
The "Sisi Trail", which leads through the museum, tells the story of the well-loved Empress from her arrival as a bride to her death by way of her carriages, robes and unique mementos. The trail displays her wedding carriage, her children's miniature carriages, her golden coronation carriage and the carriage she was using when she was murdered in Geneva. At the end, we see her imposing funeral carriage, which carried her to her last resting place. These carriages are presented together with portraits, paintings and unique personal objects of the Empress, among them her wedding train, her famous fan and the sumptuous robe with its long train that makes the impressive beauty of the Empress and her renowned "Viennese wasp waist" come alive. Her only surviving saddle and the "riding chapel" with portraits of her countless favourite horses show us Sisi as the best parforce rider of her day.
Show more
Public
Metro:U4 Hietzing
Tram:10, 52, 60 Schloß Schönbrunn
Bus: 10A Schloß Schönbrunn

Hop On Hop Off
Route: Yellow Line
Bus Stop: Schloß Schönbrunn

Address
Schönbrunner Schlossstraße, 1130 Vienna
Phone: +43 1 1 525 24 - 2710

---
Just one more step to your Vienna sightseeing tour
Buy ticket
Sie können die Inhalte jetzt downloaden um sie später offline zu nutzen. (50MB)