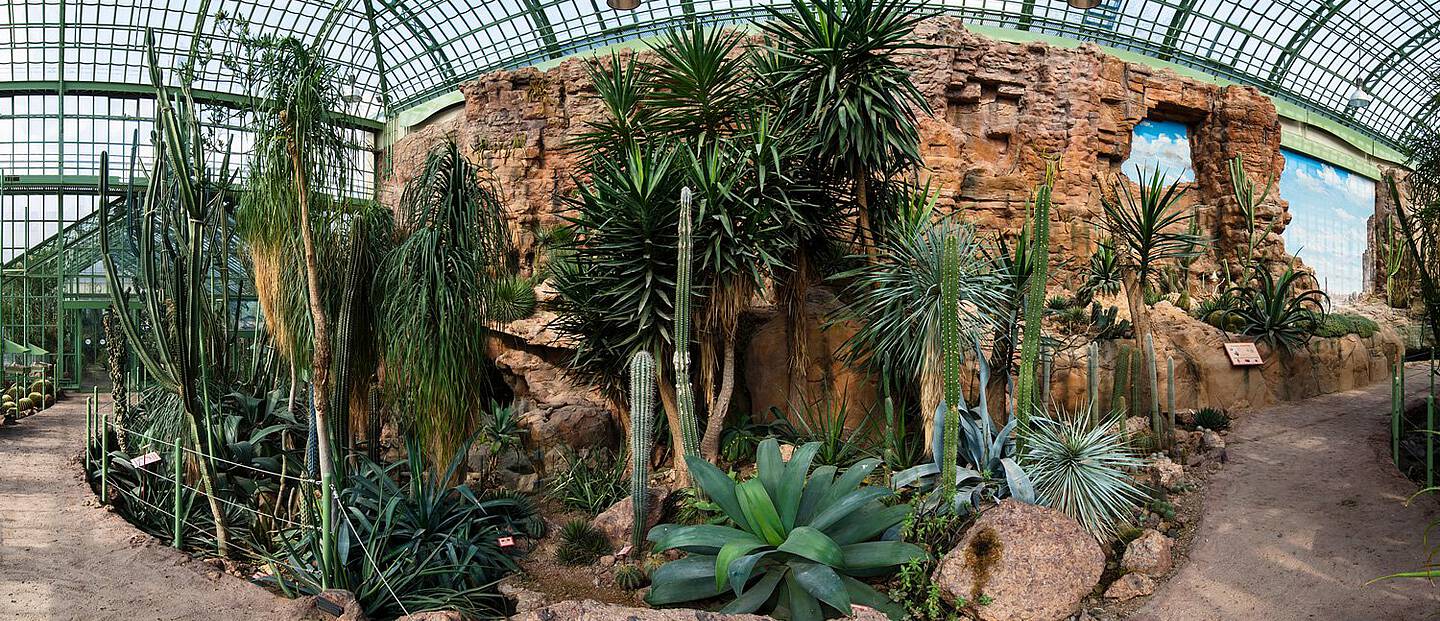 Desert House Schönbrunn
The desert house shows a selection of plants and animals from dry habitats and imparts knowledge about their survival strategies. An adventure trail takes you through a 2,000 square meter desert landscape with many fascinating inhabitants. A highlight is the 70 meter long glass tube labyrinth for naked mole rats. Also fascinating are the black-tailed rattlesnakes native to the USA, which can grow up to 1.3 meters long. The botanical focus is cacti and other succulents.
The Rainforest House opened for the 250th anniversary of the zoo and within the huge glass house, you're immersed in the dense, jungle-like habitat of the rainforest as the skies rumble overhead with threatening storms; It provides the complete experience with a wide range of animals and birds to discover; from otters to Asian fairy-bluebirds, dark tiger pythons and plenty of creepy crawlies. If you're brave enough there's even a dark bat cave to immerse yourself in, to learn about these nocturnal mammals.
This world-class orang-utan home is a great exhibit of our fellow mammals. Watch the apes swing from branch to branch up to 11m high as they enjoy their near-natural habitat. Visitors can take their experience to another level if they dine in the adjoining coffee shop where they can overlook the enclosure as if they were really in there with them!
The Nature Experience Trail is a must-do on your visit to Vienna's zoo. Allowing you to explore the lush grounds of Schönbrunn Palace, the trail takes you through the park's natural wildlife, up a tree-top walk for a totally unique perspective at 10m high, and down below passing ponds full of trout, carp and pike. Keep your eyes peeled for woodpeckers and don't miss the terrariums; home to salamanders, cross adders and even some of Austria's most poisonous snakes!
Hop on the sightseeing train that goes through Schönbrunn grounds and up to the Gloriette Hill for a stress-free sightseeing experience. This small train is a great way to get around the vast estate and park and to discover everything there is to see from the seat of your carriage. With nine stops including the Zoo, Obelisk Fountain and Hietzinger Gate you can see everything Schönbrunn has to offer!
Show more
Public
Metro:U4 Hietzing
Tram:10, 52, 60 Hietzing U-Bahn (Kennedybrücke)
Bus: 56A, 56B, 58A, 58B Am Platz

Hop On Hop Off
Route: Yellow Line
Bus Stop: Schloß Schönbrunn

Address
Schloßpark Schönbrunn, 1130 Vienna
Phone: +43 1 877 92 94 0

---
Just one more step to your Vienna sightseeing tour
Buy a ticket