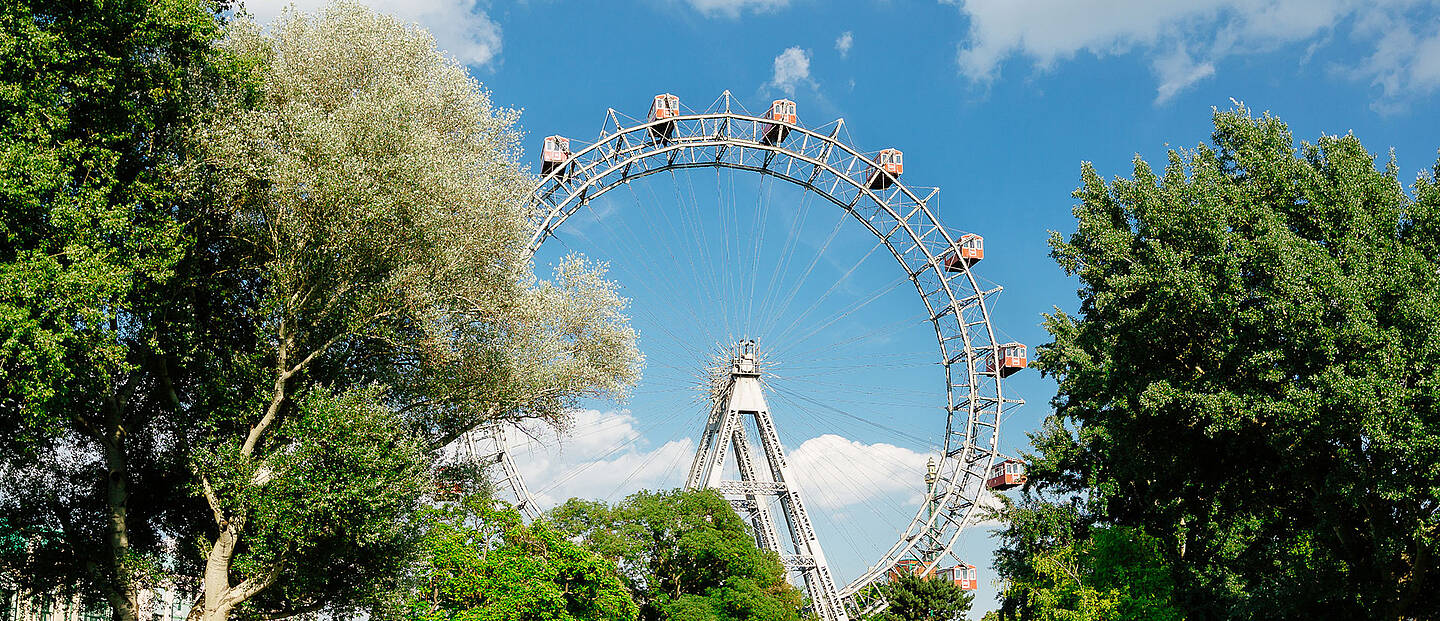 Vienna Giant Ferris Wheel
Vienna's Giant Ferris Wheel offers unparalleled views over the city, and has done since the turn of the century in 1900. As one of the city's most iconic landmarks, the wheel marks the entrance to the Prater amusement park and is a traditional moving monument of the city's skyline. A promised panoramic adventure, take to the skies and learn about Vienna from all angles.
Please visit this website for the most up to date opening hours of the Giant Ferris Wheel.
- The ferris wheel measures nearly 65m high and held the title as the world's tallest wheel from 1910 to 1985
- Its real name, in Austrian, is Wiener Riesenrad
- The wheel originally had 30 cabins before it was damaged during WWII – then only 15 cabins were rebuilt
- The wheel has played a part in many blockbusters, including James Bond The Living Daylights; and featured in the novel The Third Man by Graham Greene
Things to see:
Rad der Geschichte
Wheel of History
Discover Vienna's history through this cultural landmark. The Wheel of History will take visitors through some of the most important periods of the city and the Prater area, bringing the city to life. From the Roman Times all the way to the World Wars delve into the past! Learn about the construction of St Stephan's Cathedral in the Middle Ages, to the reign of Joseph II as Emperor in 1766, who opened the Prater up to the public; and the cosmopolitan city in the fin de siècle.
Show more
1. April-April 25th
Monday
closed
10:00 - 22:00
Tuesday
closed
10:00 - 22:00
September 5th-October 2nd
last ride: 15 minutes before closing time
opening hours on special days :
24.12.2021 10:00am – 5:00pm
31.12.2021 10:00am – 02:00am
Public
Metro:U1, U2: Praterstern
Tram:5: Praterstern

Hop On Hop Off
Route: Blue Line
Bus Stop: Prater/Riesenrad

Address
Riesenradplatz 1, 1020 Vienna
Phone: +43 1 729 54 30

---
Just one more step to your Vienna sightseeing tour
Buy a ticket