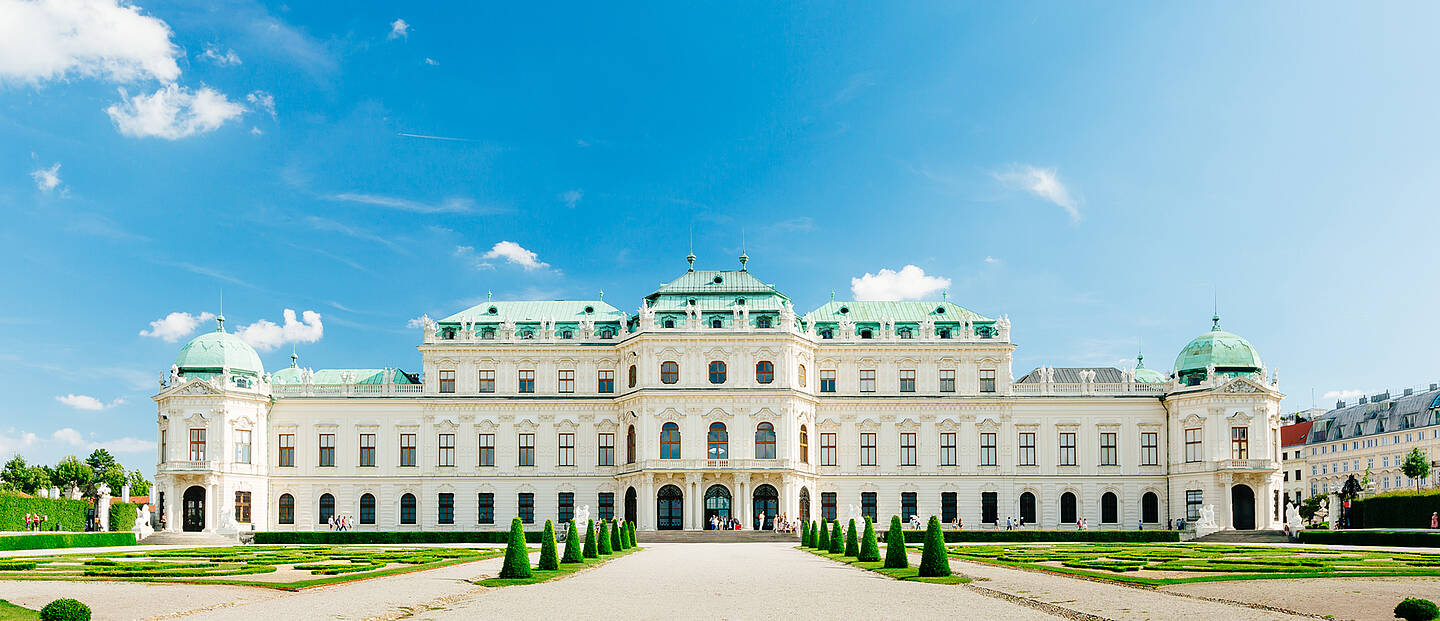 Upper Belvedere
The Belvedere is one of the world's most beautiful and important museums and one of Vienna's most visited sights. Originally located in the vineyards outside the Imperial City, the two Belvedere palaces, which are connected by a unique baroque garden, were built as Prince Eugene of Savoy's summer residence. The Upper Belvedere – built between 1717 and 1723 – rises above the surrounding area at the top of a hill, providing a magnificent view of Vienna. At the lower end of the extensive, gently sloping park, lies the Lower Belvedere, built between 1714 and 1716. Built for Prince Eugene of Savoy's private use, the preserved staterooms reflect the baroque splendour and savoir vivre.
The collection Vienna 1880-1914, including the world's largest collection of Gustav Klimt's paintings, including the famous Art Nouveau works "The Kiss (Lovers)" and "Judith".
Key works of French impressionism by Paul Cézanne, Edgar Degas, Vincent van Gogh, Claude Monet, Edouard Manet, Camille Pissarro, and Pierre-Auguste Renoir.
The greatest collection of Viennese Biedermeier art, including works by Friedrich von Amerling and Ferdinand Georg Waldmüller.
- …that the name Belvedere, meaning "beautiful view", goes back to the times of Empress Maria Theresa, who acquired the property soon after Prince Eugene's death and after the famous painter of vedute (highly detailed landscapes) Bernardo Bellotto immortalised the view in a large-scale painting in the 18th century, it became known as "Belvedere view"?
- …that the Imperial Gallery was opened to the public in 1781, making the Upper Belvedere one of the world's first museums open to the public?
- …the Austrian State Treaty was signed by the representatives of the Allied occupying powers and the Austrian government at Belvedere on 15 May 1955?
The magnificent state rooms in the Upper Belvedere which now are a permanent home to the highlights of the Belvedere collection, from the Middle Ages to the present day.
The highly structured, terraced palace gardens designed by garden designer Dominique Girard. Filled with countless fountains and basins, mythological sculptures, ground ornaments and flowerbeds, it connects the two palaces.
The state rooms of Prince Eugene, such as the Marble Hall, the Marble Gallery, the Gold Cabinet, adjoining orangery and ornate stables in the Lower Belvedere.
Show more
Public
Metro:U1 Hauptbahnhof (15min)
Tram:O, 18: Quartier Belvedere; D:Schloss Belvedere
Train: Quartier Belvedere

Hop On Hop Off
Route: Yellow Line
Bus Stop: Schloss Belvedere

Address
Prinz Eugen-Straße 27, 1030 Vienna
Phone: +43 1 79 557 0

---
Just one more step to your Vienna sightseeing tour
Buy a ticket