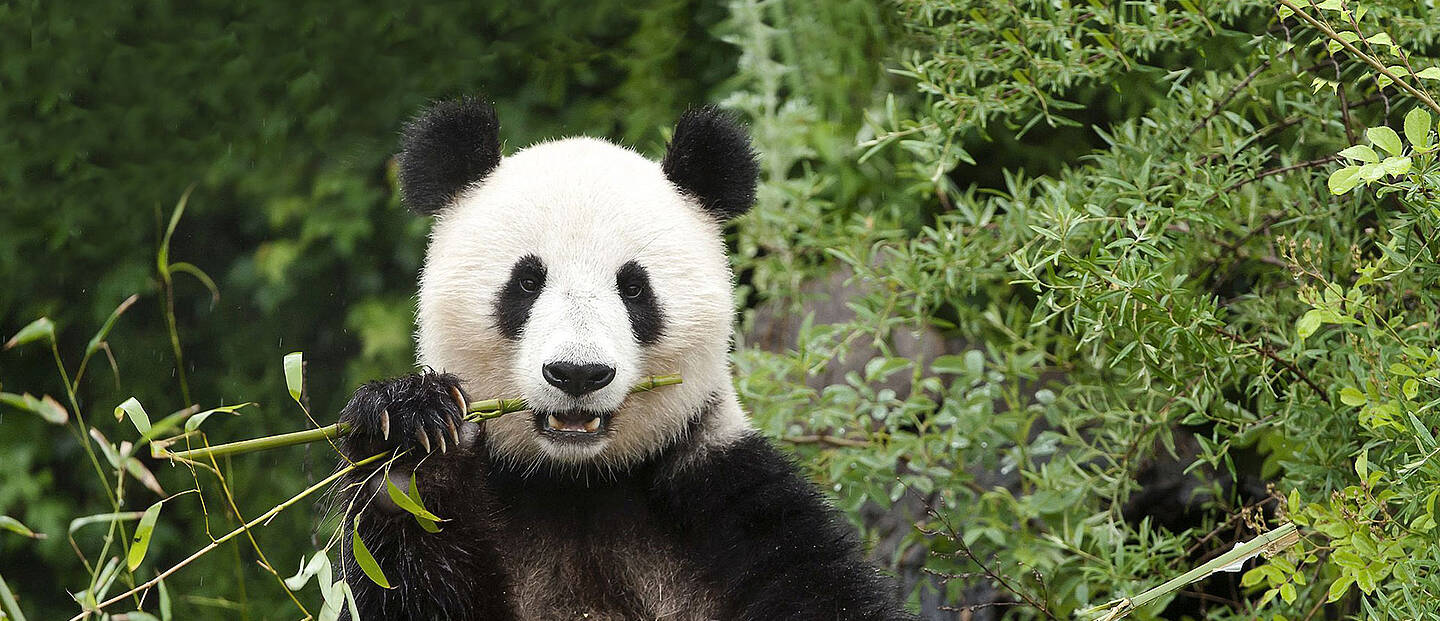 Schönbrunn Zoo
A visit to this zoo, which was built in 1752 and is therefore the oldest in the world, should not be missed on any trip to Vienna. With its 700 different animal species - including giant pandas, koalas, elephants and lions - a trip to Schönbrunn Zoo is an experience for the whole family. By being embedded in the historical ambience of the Schönbrunn Palace Park, the zoo shows the most modern animal husbandry and provides exceptional insights into the animal world.
- Schönbrunn Zoo is the oldest zoo in the world and part of the UNESCO World Heritage Site!
- Schönbrunn Zoo received its first giraffe as a gift from the Viceroy of Egypt in 1828; it was so popular that not only did it spur record number of visitors but it also influenced fashion and taste which saw everything from clothes to cakes – even hairstyles – inspired by the motif
- To celebrate the 250th anniversary of the zoo in 2002 a 5 euro coin was minted for the occasion – now a highly collectable item
The Rainforest House opened for the 250th anniversary of the zoo and within the huge glass house, you're immersed in the dense, jungle-like habitat of the rainforest as the skies rumble overhead with threatening storms; It provides the complete experience with a wide range of animals and birds to discover; from otters to Asian fairy-bluebirds, dark tiger pythons and plenty of creepy crawlies. If you're brave enough there's even a dark bat cave to immerse yourself in, to learn about these nocturnal mammals.
This world-class orang-utan home is a great exhibit of our fellow mammals. Watch the apes swing from branch to branch up to 11m high as they enjoy their near-natural habitat. Visitors can take their experience to another level if they dine in the adjoining coffee shop where they can overlook the enclosure as if they were really in there with them!
The Nature Experience Trail is a must-do on your visit to Vienna's zoo. Allowing you to explore the lush grounds of Schönbrunn Palace, the trail takes you through the park's natural wildlife, up a tree-top walk for a totally unique perspective at 10m high, and down below passing ponds full of trout, carp and pike. Keep your eyes peeled for woodpeckers and don't miss the terrariums; home to salamanders, cross adders and even some of Austria's most poisonous snakes!
This exotic botanical 'hot house' was commissioned by Emperor Franz Joseph I to contain his specimens and plants from South Africa and Australia. Its architecture is fin de siecle art nouveau style, but inside this 1904 desert greenhouse is divided into different arid areas like Madagascar and deserts of the Old and New Worlds for a truly authentic desert experience.
Hop on the sightseeing train that goes through Schönbrunn grounds and up to the Gloriette Hill for a stress-free sightseeing experience. This small train is a great way to get around the vast estate and park and to discover everything there is to see from the seat of your carriage. With nine stops including the Zoo, Obelisk Fountain and Hietzinger Gate you can see everything Schönbrunn has to offer!
Show more
The ticket office closes 30 minutes before closing time – this is also the latest entry time for the zoo.
Public
Metro:U4 Hietzing
Tram:10, 52, 60 Hietzing U-Bahn (Kennedybrücke)
Bus: 56A, 56B, 58A, 58B Am Platz

Hop On Hop Off
Route: Yellow Line
Bus Stop: Schloß Schönbrunn

Address
Schloßpark Schönbrunn, Haupteingang nahe Hietzinger Tor oder vom Autoparkplatz über Eingang Tirolerhof, 1130 Vienna
Phone: +43 1 877 92 94 0

---
Just one more step to your Vienna sightseeing tour
Buy a ticket