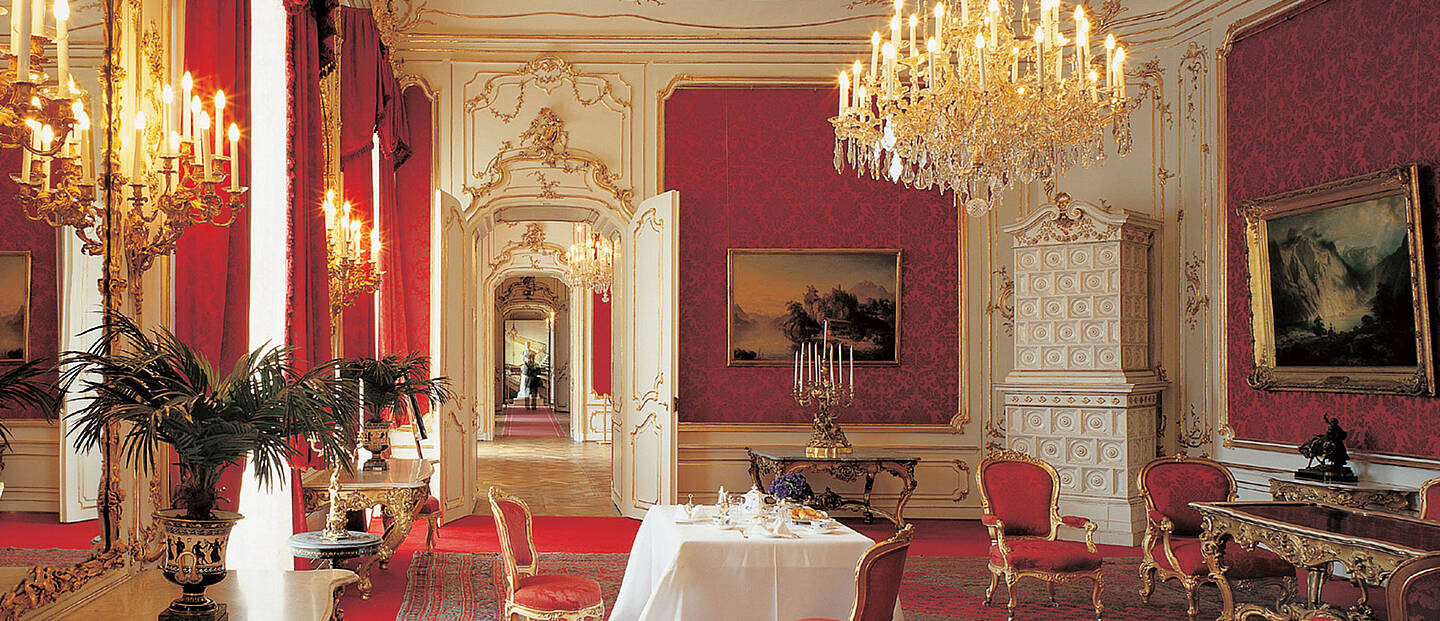 Sisi Museum Hofburg
The Hofburg Palace is a must-see when visiting Vienna. The power-house of the Austrian empire, it holds a wealth of rich culture and history waiting to be explored. The Habsburg emperors built their imperial forum into one of the most lavish locations and now it stands as the official seat of the Austrian President. With a variety of museums such as the Imperial Treasury Vienna, art galleries and prestigious collections, there is plenty to be discovered.
- The Hofburg Palace was originally a fortified castle which dates back to the 13th century
- The 'city within a city' now encompasses 240,000m², consisting of 18 wings, 19 courtyards and over 2,600 rooms
- The imperial wine cellar used to be housed in the basement covering three floors
- The Silver Collection features 7,000 items – some of which measure up to 30 metres in length
Once known as the Court Silver and Table Room, the Imperial Silver Collection lies in the Imperial Chancellery Wing of the Imperial Palace and gives visitors an insight into the culture of dining at court with over 7,000 items on display. Learn about the history of the Silver Chamber, those who ran it and the importance it played in the day-to-day life of the Habsburgs. Since the end of the imperial monarchy in 1918, some of the elaborate Silver Wear is still used for formal state banquets and dinners.
Visitors are invited to learn about the legendary Empress Sisi (Elisabeth) through a dedicated museum to her life, examining her true character and habits. With over 300 personal items, discover the true story of this legendary Empress from the clothes she wore, her poetry, her beauty recipes and even an insight into her imperial carriage. On special occasions, unique objects like a milk tooth and her christening robes are also on display for visitors to see.
Hofburg Palace is a sprawling hub of imperial power and was home to the Habsburgs for over 600 years. Each member of the family had their own apartments or suites in one of the many wings. Each apartment was lavishly decorated in the Empire, baroque and Rococo style. Let yourself be taken back in time as you journey through this imperial palace and home and marvel at the splendour of the Austrian monarchy.
Show more
Last Admission: 1 hour before closing
Public
Metro:U3 Herrengasse
Tram:1, 2, 71, D Burgring
Bus: 1A, 2A Hofburg

Hop On Hop Off
Route: Blue Line / Yellow Line / Red Line
Bus Stop: Kunsthistorisches Museum

Address
Hofburg - Innerer Burghof, 1010 Vienna
Phone: +43 1 533 75 70

---
Just one more step to your Vienna sightseeing tour
Buy a ticket