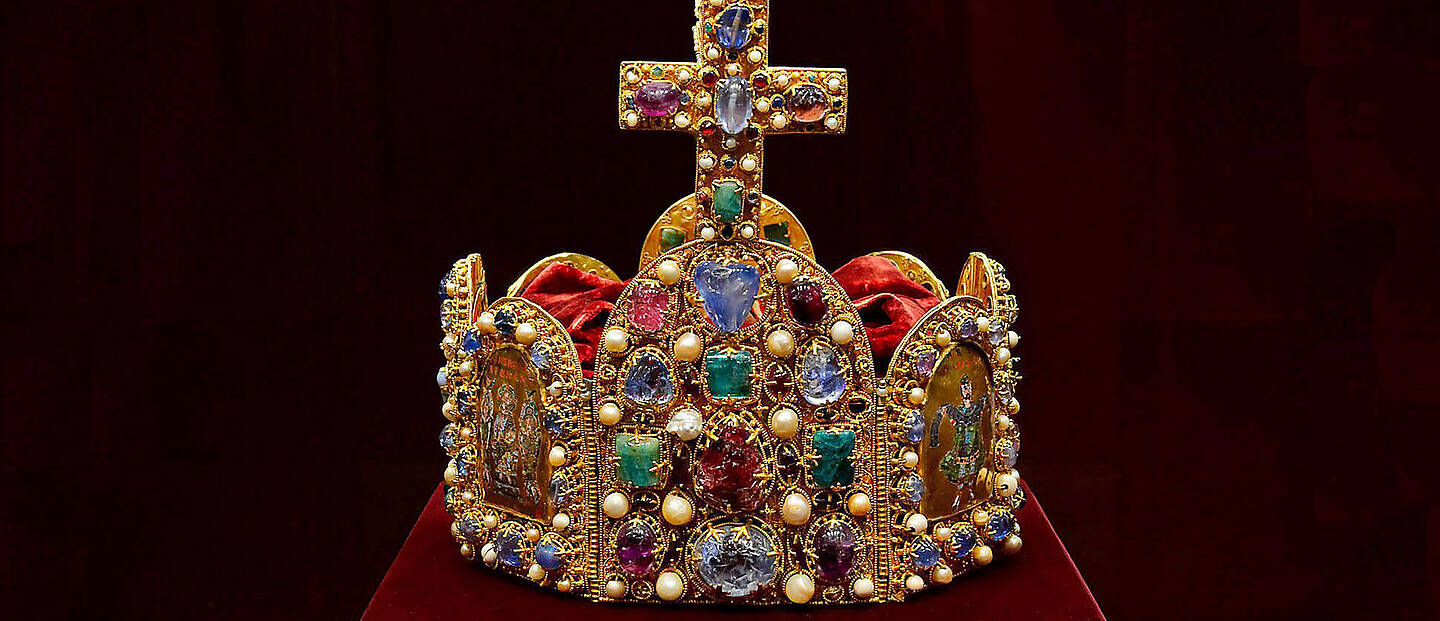 Imperial Treasury Vienna
No trip to Vienna is complete without a visit to the Hofburg Palace. Once the political centre of the Austrian Empire, it now offers fascinating insights into culture and history. The Imperial Treasury, located in a part of the Hofburg Palace built in the 13th century, is one of Vienna's most important attractions: It houses the Crown of the Holy Roman Empire, the Austrian Imperial Crown and other Habsburg treasures of immeasurable value.
The Imperial Regalia of the Holy Roman Empire, including the Imperial Crown, the Imperial Cross, the Holy Lance and the coronation vestments
The Austrian Imperial Crown, the Crown of Rudolf II, with orb and sceptre
Empress Elisabeth's jewellery
The largest cut emerald in the world
The Vestments of the Order of the Golden Fleece Unique textile art from the Late Middle Ages: precious gold and silk embroidery of the highest quality
- That one of the objects in the Imperial Treasury Vienna is a giant narwhal tooth, which was thought to be the horn of a unicorn
- You can discover objects in the Imperial Treasury Vienna that are surrounded by an aura of legend, such as the Holy Lance from the 8th century or the largest agate bowl in the world, which was thought to be the Holy Grail
- The Imperial Treasury has the only nearly complete royal treasure from the European Middle Ages
The Imperial Treasury houses an extraordinary collection of insignia, coronation vestments and mementos telling the long story and tradition of the House of Habsburg as one of the most influential dynasties of the Christian Occident. Its key pieces include jewels and relics of the Holy Roman Empire as unique representatives of a millennium of European history. They evoke important political events and the culture and world of thought of times and forms of government long gone.
The Crown of Rudolf II, which he had made in 1602, is dazzling in its material and artistic wealth. Some 200 years later it became the official Crown of the new Austrian Empire.
Other highlights include mementos of Napoleon and his son from his marriage to the Austrian Archduchess Marie Louise as well as pieces of jewellery that belonged to Habsburg empresses and archduchesses, including Empress Elisabeth ("Sisi").
Discover legendary treasures, such as an agate bowl thought to be connected to the Holy Grail or a "unicorn horn".
At the end of the tour, you will see the impressive treasures that bear witness to the ties of the House of Habsburg with the Dukes of Burgundy and the Order of the Golden Fleece.
These unique works of art and royal insignia make the Imperial Treasury Vienna the most important treasury in the world.
Show more
JUNE - SEPTEMBER
Last admission: 30 minutes before closing
24.12.: 09:00 - 15:00
Public
Metro:U3 Herrengasse
Tram:1, 2, 71, D Burgring
Bus: 1A, 2A Michaelerplatz

Hop On Hop Off
Route: Yellow Line / Red Line
Bus Stop: Kunsthistorisches Museum

Address
Hofburg, Schweizerhof, 1010 Vienna
Phone: +43 1 525 24 0

---
Just one more step to your Vienna sightseeing tour
Buy ticket
Sie können die Inhalte jetzt downloaden um sie später offline zu nutzen. (50MB)