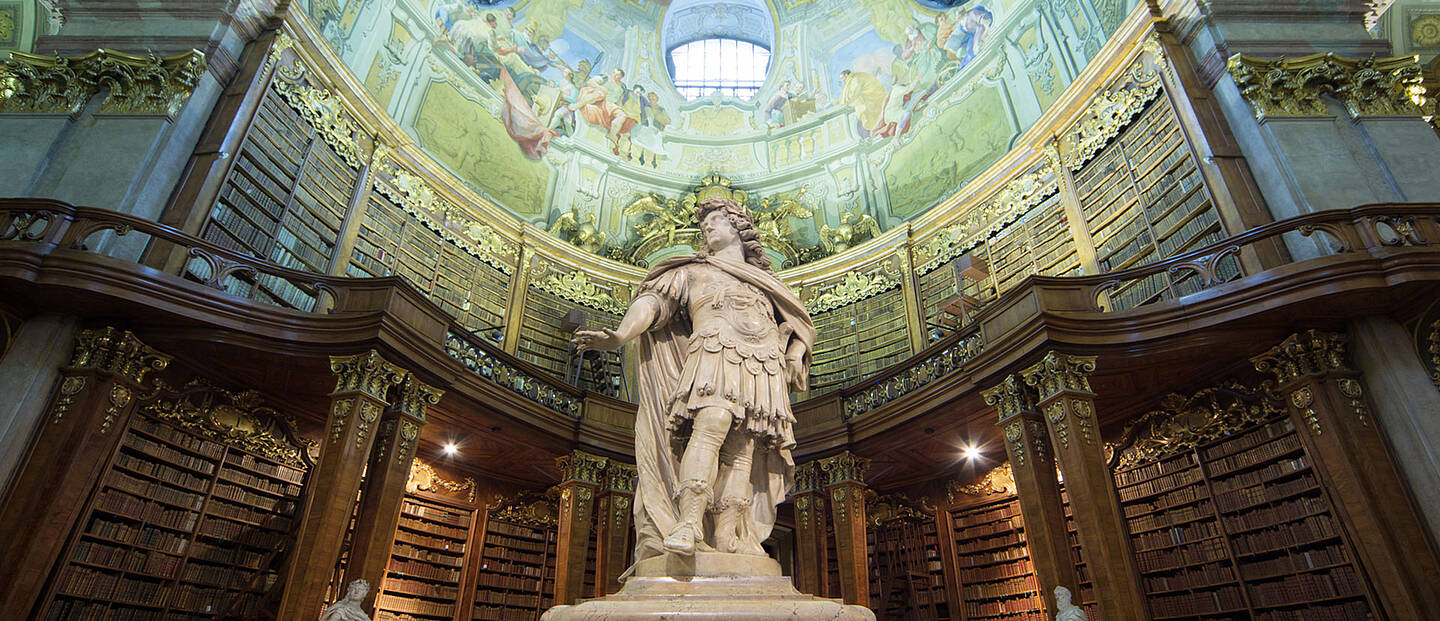 State Hall of the Austrian National Library
The State Hall of the Austrian National Library is one of the world's most beautiful historic libraries. Habsburg Emperor Charles VI (1685-1740) had this gem of secular baroque architecture built for his court library. The 77-metre long State Hall was built between 1723 and 1726 according to the plans of the famous court architect Johann Bernhard Fischer von Erlach. The ceiling frescoes were completed in 1730 by court painter Daniel Gran.
The frescoes in the entrance wing show worldly and military themes.
In the rear peace wing, which is adjacent to the Hofburg and was the original access for the Emperor, allegorical presentations of Heaven and peace can be seen.
The famous fresco in the cupola, which is 30 metres high, presents the apotheosis, or deification, of Charles VI, with an allegory on the construction of the Library.
- The State Hall is home to 200,000 valuable books published between 1501 and 1850?
- The 15,000 volumes of Prince Eugene of Savoy's collection are displayed in the central oval of the hall? In the 18th century, the library's value was estimated at 150,000 florins, making it more valuable than Prince Eugene's Belvedere palace, whose construction cost 100,000 florins.
The four magnificent baroque globes in the central oval of the hall–two terrestrial and two celestial globes–are the work of Vincenzo Coronelli. Together with the marble statues created by the brothers Peter and Paul Strudel and the walnut bookcases, they paint an authentic picture of the baroque universal library of the 18th century.
The State Hall is used not only as a library, but also as a museum: Two to three special exhibitions annually display valuable objects from the Austrian National Library's collections.
Show more
On Monday, May 1 and Monday, May 29, 2023 the State Hall is open. From June 2023 open on all Mondays (10:00-18:00h).

On December 24, the museums of the Austrian National Library close at 3 p.m.
For the other public holidays the usual opening hours apply.
Public
Metro:U1,U3 Stephansplatz; U2 Museumsquartier; U3 Herrengasse
Tram:1, 2, 71, D Burgring
Bus: 1A Habsburgergasse

Hop On Hop Off
Route: Blue Line / Yellow Line / Red Line
Bus Stop: Kunsthistorisches Museum/Heldenplatz

Address
Josefsplatz 1, 1015 Vienna
Phone: +43 1 534 10-394

---
Just one more step to your Vienna sightseeing tour
Buy a ticket