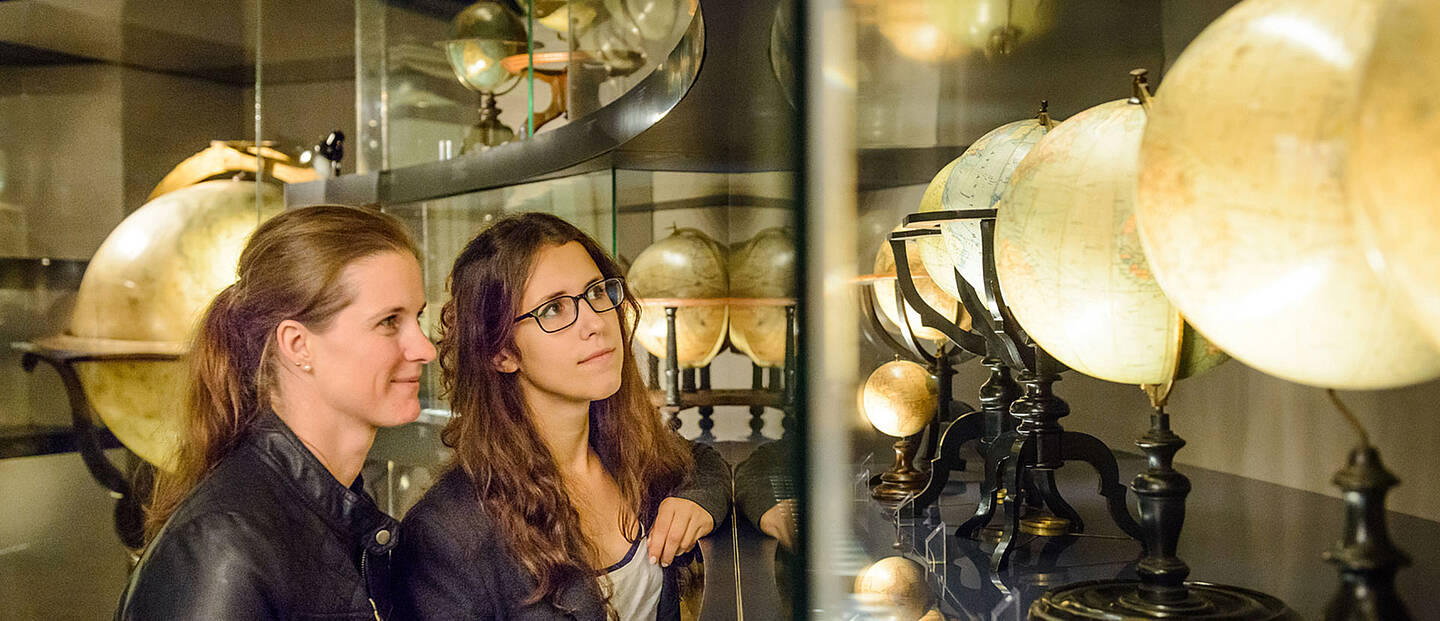 Globe and Esperanto Museum
The Globe Museum of the Austrian National Library is the only one of its kind in the world. Housed in the historical Palais Mollard, it presents some 250 valuable terrestrial and celestial globes from the 16th century to modern times, as well as globes of the Earth's moon and various planets, and instruments of which globes are an integral part, such as planetaria, telluria and lunaria.
The so-called "gold cabinet" shows large-scale murals from around 1700. It is not known who painted these mythological scenes in the style of Paolo Veronese, but their splendour certainly forms a beautiful backdrop for remarkable instruments such as armillary spheres and planetaria.
A visitor favourite is the virtual globe: A 3D facsimile of Gerard Mercator's terrestrial globe can be enlarged and rotated on a touchscreen. Visitors can also compare the hand-coloured surface of the original with current geodata, allowing them to see how the geographical knowledge of the 16th century compares to reality.
The Esperanto Museum of the Austrian National Library is one of the most significant of its kind worldwide: It presents not only a large collection of media and objects in and about Esperanto, the world's most successful planned language, but also countless other invented languages, such as Klingon from the TV cult series "Star Trek".
- Esperanto was forbidden by both the Nazi and the Communist regimes but is still spoken by several million people today.
- So-called natural languages like German or English have many words of artificial origin? For example, the words "gas" or "cinema" were invented to describe things that did not initially exist in the language.
- Famous people like Francis Bacon, René Descartes and Gottfried Leibnitz were interested in planned languages as well?
Show more
24th December: 10:00 - 15:00 & 31st December
Public
Metro:U3 Herrengasse
Tram:1, 71, D Rathausplatz / Burgtheater
Bus: 1A, 2A Herrengasse; 1A, 2A Michaelerplatz

Hop On Hop Off
Route: Blue Line / Red Line
Bus Stop: Burgtheater

Address
Palais Mollard, Herrengasse 9, 1010 Vienna
Phone: +43 1 534 10 710

---
Just one more step to your Vienna sightseeing tour
Buy a ticket