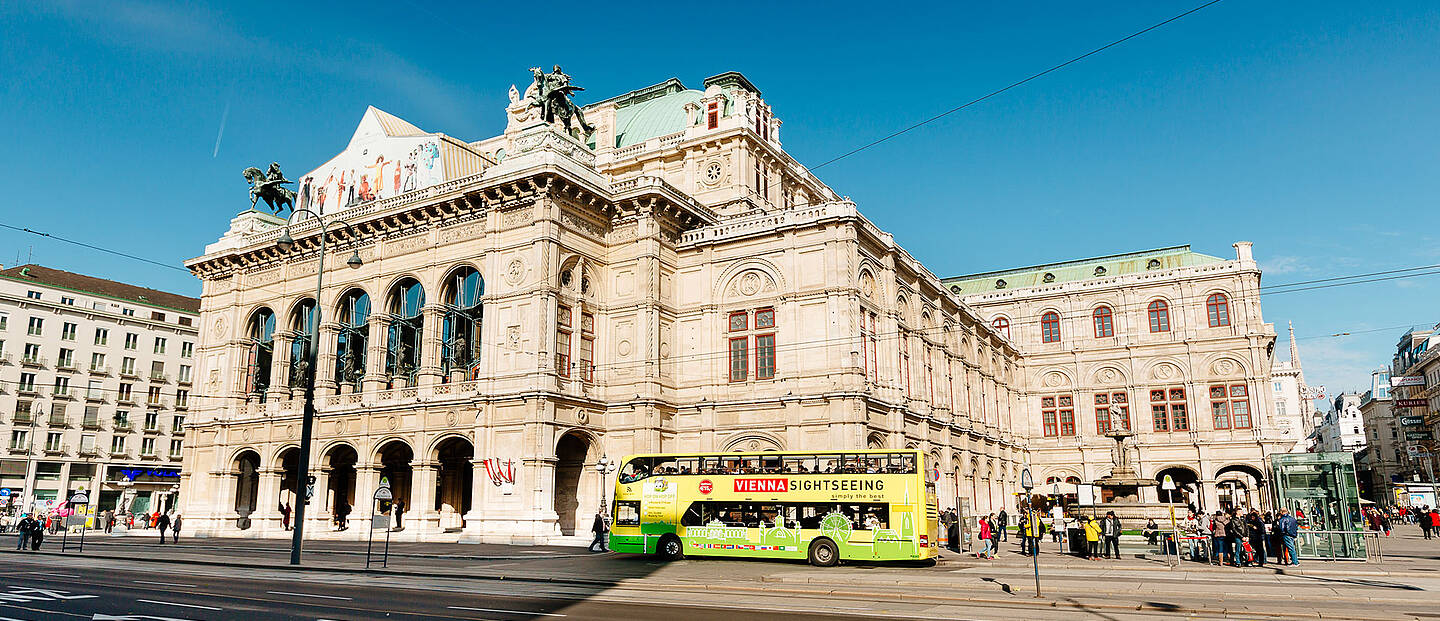 HOP ON HOP OFF Bus Tours
Valid for the entire duration of your pass!
Discover Vienna from a different perspective with a VIENNA SIGHTSEEING HOP ON HOP OFF tour. A comprehensive tour of the city, you'll be driven around the top sights, monuments and landmarks in a double decker bus. It's the perfect opportunity to customise your own tour, you can hop-on, hop-off at any of the up to 45 stops to explore Vienna at your leisure. With a choice of four routes, you can pick and choose your journey and discover everything there is to see of Austria's historic capital!
- The Danube River that runs through Vienna is unique in that it also runs through three other capital cities; Bratislava, Budapest and Belgrade
- Vienna has two nicknames, the City of Dreams, as coined by psychoanalyst Freud, and the City of Music as it is a mecca for aspiring musicians with a wealth of classical history
- The expansive palace and gardens of the imperial Schönbrunn Palace covers 435 acres
Explore the magnificent Ringstraße! Along the Ringstrasse you find the most important sights of Vienna. For example the impressive State Opera or grand Hofburg Palace, a special highlight which takes you back to imperial times. Visit the residence of former emperors and see the Sisi museum too. In the Imperial Treasury you can admire the crown of the Holy Roman empire and many other precious items. Also directly located at the Ringstrasse is the beautiful building of the Kunsthistorisches Museum Vienna. It is the home of priceless art treasures, such as the world's largest collection of Bruegel paintings. Other highlights on this popular HOP ON HOP OFF tour are the Austrian Parliament, the City Hall and the National Theater.
The Danube route will take visitors slightly out of town towards Danube Park where you can hop-off and go up the sky-high Danube Tower (the tallest tower in Austria) for breath-taking panoramic views over the city. The tour will also take you to the Prater area where you can discover Vienna's theme park in Leopoldstadt. The Wiener Riesenrad, or Riesenrad – the Giant Ferris Wheel – is a must-see, too, to discover Vienna's history in a unique way.
This imperial tour is one for the history fans to learn more about Austria's rich culture and stately past. You can explore the luxury and opulence within Schönbrunn Palace, the Habsburg's summer residence, and its 1,441 staterooms, including the Gloriette and Schönbrunn Zoo. Learn about the Habsburgs' tastes and habits and how they lived their day-to-day lives. You'll also be taken around the Fruit and Flower Market, the Museum of Military History and the Belvedere Palace too.
Show more
Please check the timetable on www.viennasightseeing.at
Public
Metro:U1, U2, U4: Karlsplatz
Tram:1, 2, 71, D: Kärntnerring/Oper
Bus: 2A, 4A, 59A: Karlsplatz/Oper

Hop On Hop Off
Route: Blue Line / Yellow Line / Green Line / Red Line

Address
Opernring 2, 1010 Vienna
Phone: +43 1 712 46 83

---
Just one more step to your Vienna sightseeing tour
Buy a ticket