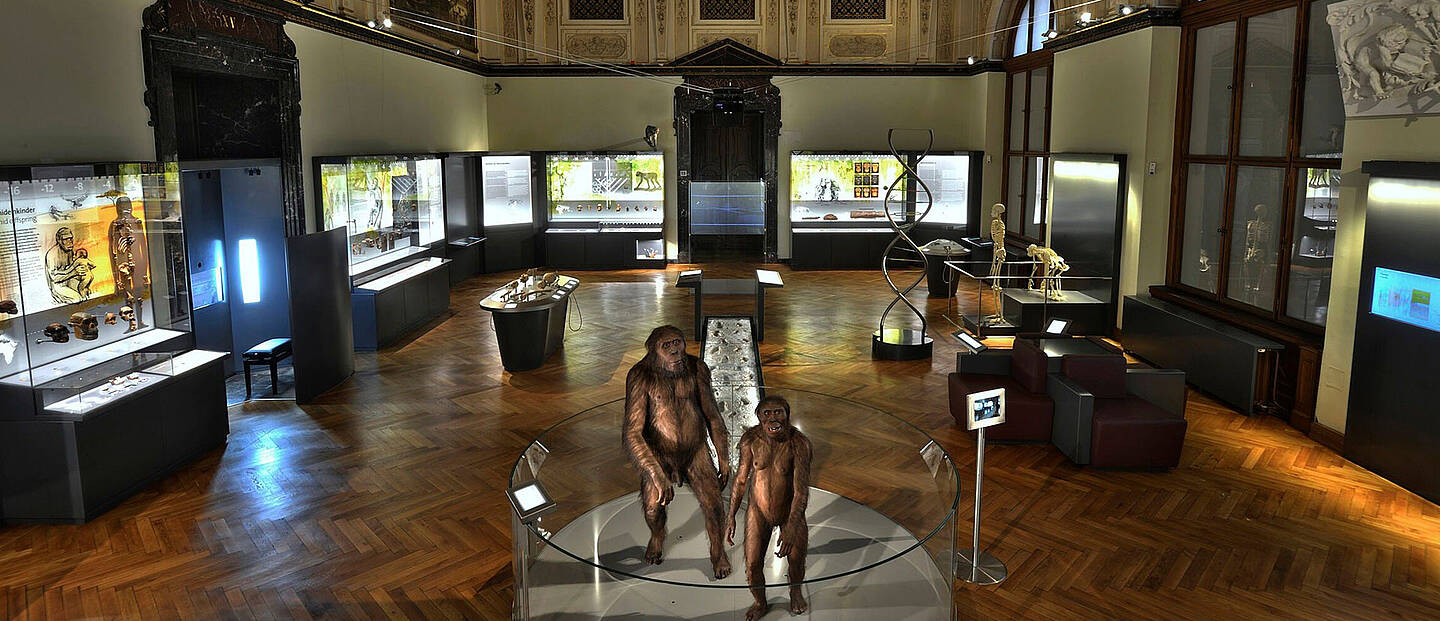 Museum of Natural History
The Museum of Natural History is one of the most esteemed museums in Vienna. With an impressive collection of over 30 million specimens and artefacts it's one of the city's most popular attractions. A great day out for the family, its 39 themed rooms takes you through time from the prehistoric era and a dinosaur room, to the history of human evolution room and the largest meteorite collection in the world.
- Made at the same time as the Museum of Art History, it's an architectural replica of its neighbour, sitting across the courtyard at Maria-Theresien-Platz
- The building is in the neo-Renaissance style and is a work of art in its own right – don't forget to stop an admire the detail of the décor, including all the paintings that adorn the walls
- You can't miss the giant topaz, but also look out for the gemstone and diamond bouquet of flowers Empress Maria Theresa had made for her husband
Discover the world of the dinosaur in Hall 10 at the Museum of Natural History. A huge hit with visitors to the museum, you can expect large skeletons of the Diplodocus, Allosaurus and Iguanodon. Look up at the full-size Pteranodon model with a wingspan of 7m that dominates the sky above. It's a great room to get the kids involved with natural history and to learn about the first animals that roamed the world.
The 29,500 year-old and only eleven centimeter tall "Venus von Willendorf" was found in the Wachau in Lower Austria in 1908. Other than her name, Venus of Willendorf thanks to her location of discovery, very little is known about this carving – some say she was a fertility goddess, but what is certain is that she is a representative of female figures that survived the Palaeolithic Period.
The meteorites and gem hall is one of the most spell-binding as visitors can appreciate the beauty of the natural earth. From halls 1 to 5, explore some of the most exotic stones, rocks and gems including crystals, quartz, star muscovite, turquoise and emeralds among many others. The meteorite hall is worth a look in as it's the oldest and largest of its kind in the world, with over 1,100 meteorites on display, complete with Martian meteorites, lunar rocks and lunar meteorites.
Show more
Tuesday
Closed
(except 26.10, 2.11, 28.12, 04.1
Last Admission: 30 min before closing
Closed: 25.Dec. and 1.Jan.
Public
Metro:U2,U3 Volkstheater
Tram:1,2,71,D Ring/Volkstheater; 46 Schmerlingplatz; 49 Volkstheater
Bus: 48A Volkstheater

Hop On Hop Off
Route: Blue Line / Red Line
Bus Stop: Kunsthistorisches Museum / Heldenplatz

Address
Maria-Theresien-Platz, 1010 Vienna
Phone: +43 1 521770

---
Just one more step to your Vienna sightseeing tour
Buy a ticket