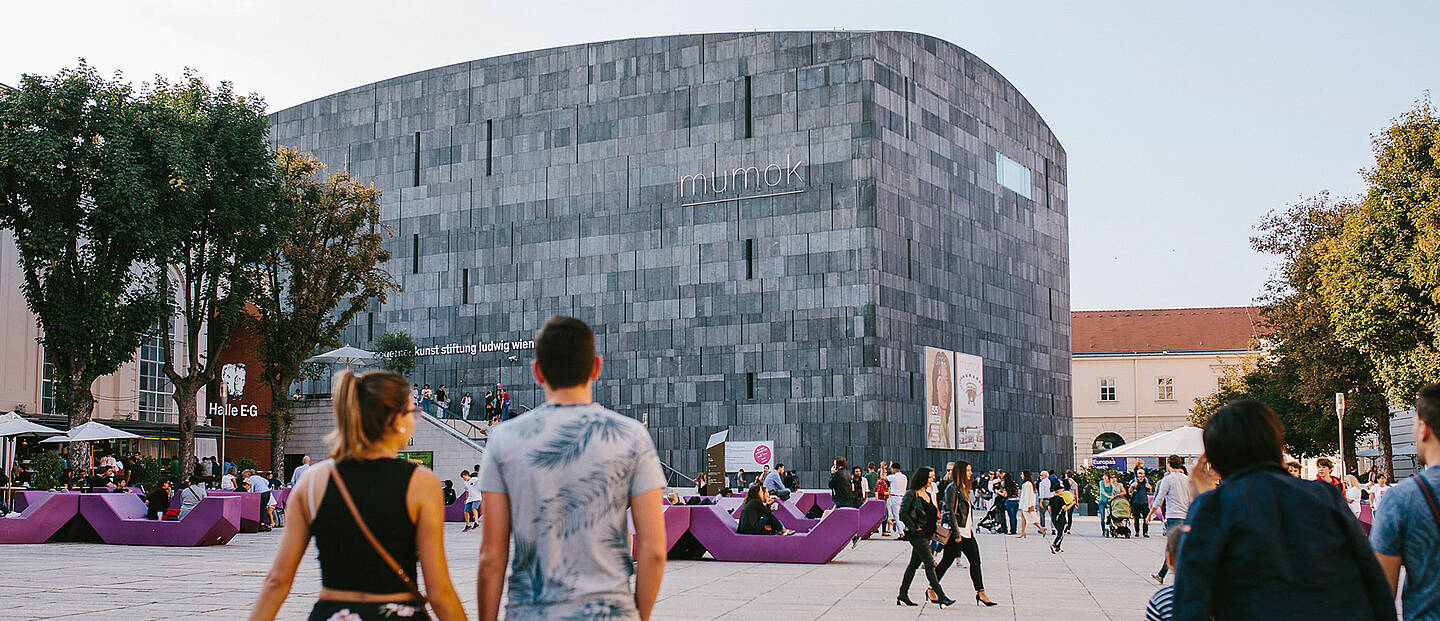 mumok - Museum of Modern Art
With its focus on 20th and 21st century art, mumok is the leading museum for modern and contemporary art in Vienna. On 4,500 m² of floor space, the museum in the MuseumsQuartier cultural complex facilitates fascinating encounters with the art of our times, including such ground-breaking artists as Warhol and Picasso.
- When the museum officially opened in 1962 it only had 90 works on display
- Pop Art is made from commercial items and cultural icons such as product labels, advertisements and was a reaction to the seriousness of Abstract Expressionist Art
- Viennese Actionism was never an officially formed group, the four key artists simply responded to cultural and societal changes in the same way and means
The Museum of Modern Art Ludwig Foundation Vienna (MUMOK) is the largest museum for modern and contemporary art in Central Europe with an extensive collection of international art from the 20th century and the present. Situated in the heart of historic Vienna, with its permanent collection and changing contemporary exhibitions, MUMOK is the ideal location for experiencing the art of our times.
The collection spans the full range from works from classical modernity, Cubism, Futurism and Surrealism up to the art movements of the 1960s and 1970s, Pop Art, Fluxus and Nouveau Réalisme. The collection contains early 20th century paintings and sculptures from among others Wassily Kandinsky, Paul Klee, Pablo Picasso and Alberto Giacometti. In addition to important Pop Art works by Andy Warhol and Roy Lichtenstein, other significant positions such as Fluxus, conceptual art and Viennese Actionism are also present. In the coming years, MUMOK's collection will continue to expand addressing current positions in film, video and photography.
MUMOK presents large-scale exhibitions with contemporary art and the avant-gardes since 1945 with figures such as Yves Klein, John Baldessari, Jeff Wall, Erwin Wurm or Claes Oldenburg – as well as thematically oriented exhibitions such as new media, photography and performance.
Show more
Public
Metro:U2 Museumquartier; U2, U3 Volkstheater
Tram:49 Volkstheater
Bus: 48A Volkstheater

Hop On Hop Off
Route: Blue Line / Red Line
Bus Stop: Mariahilferstraße/MQ

Address
Museumsplatz 1, 1070 Vienna
Phone: +43 1 525 00 0

---
Just one more step to your Vienna sightseeing tour
Buy a ticket