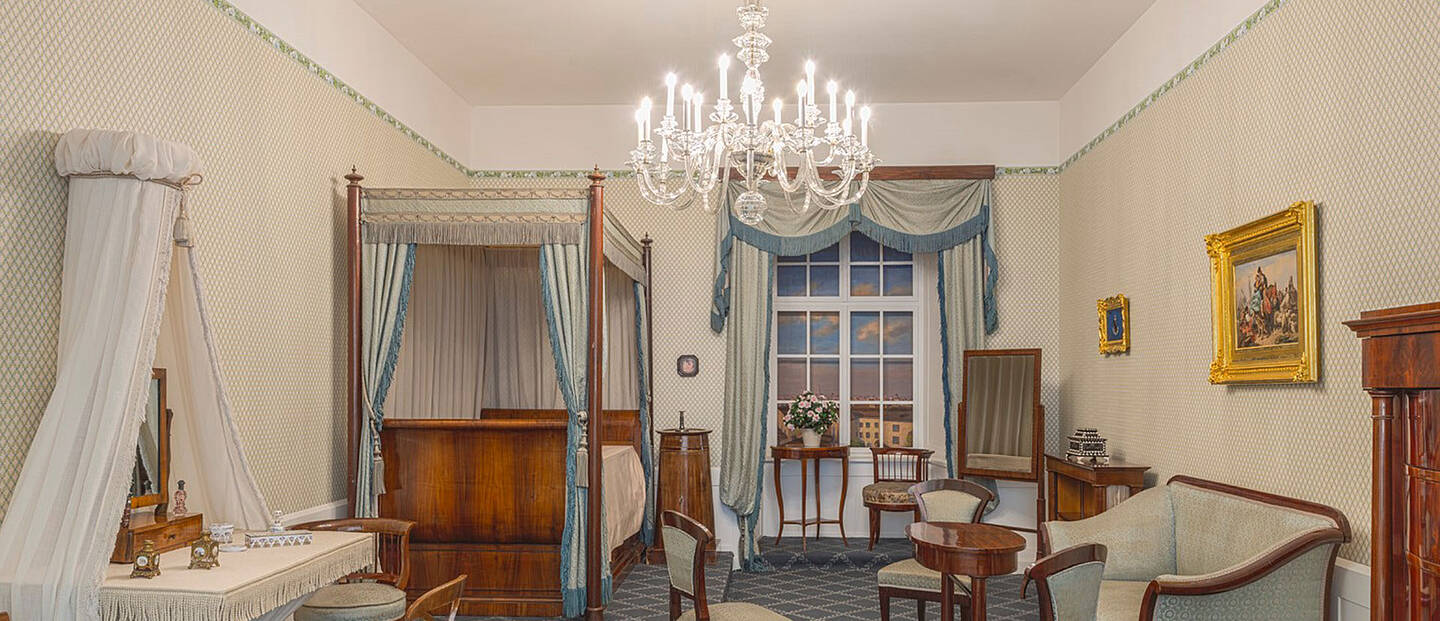 Vienna Furniture Museum
The Imperial Furniture Collection is considered to house one of the most important furniture collections in the world since Empress Maria started the notion of creating an inventory in 1747. Featuring priceless pieces from the old Imperial Habsburgs family, the museum also gives visitors an overview of Viennese cabinet making and interior decoration from the mid-1700s.
- There are approximately 165,000 objects linked to the Habsburgs family, dating back three hundred years
- Embassies and filmmakers used to borrow from this collection to furnish important conferences or use in period movies. Nowadays only federal offices and Austrian embassies are furnished from the Imperial Furniture Collection.
- The 3rd wife of Emperor Franz II/I was so fond of interior decorating that she had 24 rooms in her apartment redesigned to suit her tastes
Owned by Empress Maria Ludovica von Österreich-Este, third wife of Emperor Franz II/I, the Egyptian Cabinet is a great example of the excesses of Empire style. Because of Maria's penchant for decorating, this was one of her 24 rooms in her Leopoldine Apartment she went to redecorate. The entire room has been reconstructed to its original layout after the rooms and their decoration were dismantled following Empress Maria's death in 1816.
Art lover and patron, Prince Eugene, aka, victor of the Turks, was one of the richest prices in the late 17th and early 18th century and had an exotic taste for luxury good from the Far East; made of exotic wood, coated in Chinese or Japanese lacquer and hand-printed chintzes from India. When Maria came to decorating her rooms, she imported Prince Eugene's Indian clothes which she had bought from his estate, Imperial Palace Schloss Hof, to imitate his noble style and luxury.
Don't miss the two rooms at the Imperial Furniture Collection dedicated to Michael Thonet's evolutionary furniture. A pioneer in the move from traditional cabinet making to mass-production, his furniture signalled a move in the industry. The museum has the earliest ever Thonet chair – from around 1830 – and is the only ever laminated wood chair on display in a museum (the rest are privately owned!)
Show more
Public
Metro:U3 Zieglergasse
Bus: 13A, 14A Neubaugasse

Hop On Hop Off
Route: Yellow Line
Bus Stop: Westbahnhof/Mariahilfer Strasse

Address
Andreasgasse 7, 1070 Vienna
Phone: +43 1 524 33 57

---
Just one more step to your Vienna sightseeing tour
Buy a ticket